New Mexico
Founded in 2014
futurefocusededucation.org
Snapshot
Future Focused Education is a nonprofit that supports underserved students through policy change efforts; a network of industry-focused charter schools; and school redesign efforts aimed at providing students with 360-degree support, real-world experiences, and paid internships.
Relationship Map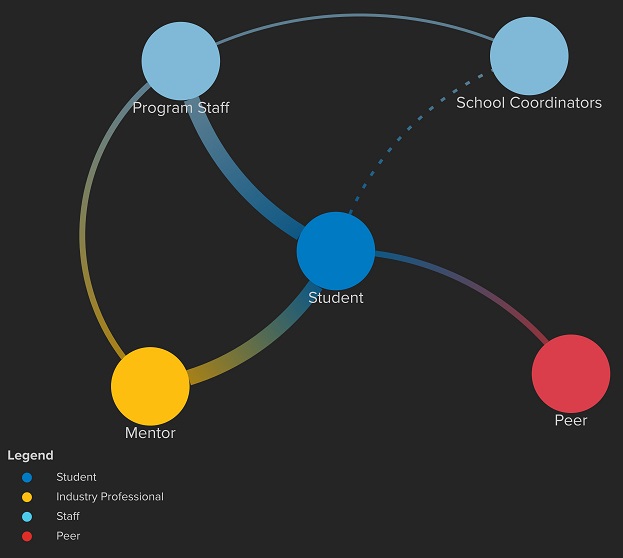 This KUMU map illustrates the web of relationships put within reach for students. Thicker lines indicate strong relationship ties (daily to weekly contact). Dotted lines indicate weak relationship ties (less frequent contact).
Stronger Ties
Mentor and program staff.
Weaker Ties
Peers and school coordinators.
Key Design Insight
Future Focused Education establishes several touchpoints for students to reflect on their relationships and internship experiences, including mediating performance evaluation discussions with mentors.
How Future Focused Education
builds social capital
Future Focused Education (FFE) builds students' social capital by integrating community engagement into the high school experience, and by providing students with mentor-guided, real-world work experiences through its X3 Internship Program. FFE guides interns through structured opportunities to build skills by networking with peers and near-peers from both their internship cohort and other schools. Students as interns are matched with employer-based mentors that they meet with at least weekly throughout their internship. FFE also connects interns with program staff and school coordinators for additional support, and brokers and mediates the interns' relationships with mentors and employers as needed.
The Future Focused Education Internship Experience
Future Focused Education started with the launch of its Leadership Schools Network, a network of industry-focused charter schools in Albuquerque, to re-engage students who have been underserved or not served by the traditional school system. As the Leadership Schools Network developed, FFE's work expanded to two additional areas of importance: (a) supporting schools and systems to succeed through policy change and (b) its X3 Internship Program, geared towards connecting students to industry mentorship.
The X3 (Explore, Experience, Expand) Internship Program is offered through partner schools, with most interns coming from the Leadership Schools Network, and is designed to help students build a reservoir of both personal and professional relationships that they can mobilize over time. The program typically runs three 13-week internship sessions per year. Interns work 12-hour weeks and receive a stipend roughly equivalent to $10 per hour, distributed monthly. 
Students in the X3 internship program are matched with a mentor who is a professional from the partner employer site hosting the internship. During week eight of their experience, interns attend a Workforce Learning Retreat during which they get oriented to the internship program and connect with peers. Through the course of the internship, the intern is expected to connect with his/her mentor through daily check-ins and formal weekly meetings. 
The X3 Internship Program provides interns with structured opportunities to reflect on their experiences throughout. Every two weeks, internship cohorts meet during school hours to strengthen peer relationships, reflect on their internship, and pursue soft skills development together. The program also includes a Midpoint Site Visit, in which interns connect with X3 Program Staff and receive a guided tour of their workplace as well as a performance review with their mentor. During the Exhibition of Learning stage, each intern presents their experience and next steps to their mentors, X3 staff, and school staff, and receives feedback. 
FFE has adapted to the COVID-induced difficulties of creating virtual internship experiences by placing some students in more traditional 1:1 experiences while placing the bulk of interns in group internships in in-person, virtual, or hybrid experiences designed in partnership with an employer and the partner high school. These internships are sometimes called "consultancies" because the interns are essentially consultants for the employer.
Relationships Built
Mentors: Interns interact regularly with their mentors, starting at orientation. Mentors work at the organizations at which students intern, overseeing the internship directly and tracking the intern's progress. This entails at least one formal check-in each week, and mentors typically check in with their interns on a daily basis as well. Mentors also carry out performance evaluations, both six weeks into the internship and once it's completed, discussing the evaluations with the interns and X3 staff together. 
Program Staff: Interns connect in cohorts with X3 program staff formally every two weeks, with the flexibility to reach out whenever problems arise. Program staff also carry out a Midpoint Site Visit six weeks into the internship, at which point interns provide a guided tour of their workspace and team, and program staff mediate a performance evaluation discussion with the mentor and intern. Pre-COVID, there was one staff member for every 20 interns, and FFE is exploring the appropriate ratio in a virtual setting.
School Coordinators: Interns communicate periodically with school coordinators, representatives from the interns' high schools that serve as the school's liaison to the X3 Internship Program and the employers. School coordinators check-in with interns on their internship experience and troubleshoot challenges as they emerge. 
Peers: Interns have an opportunity to meet their cohort peers in biweekly cohort meetings for all X3 interns who attend their school. They also engage with peers from other cohorts through, for example, team-building activities, and from other schools during both the orientation event and the Workforce Learning Retreat seven weeks into the internship. Prospective interns also attend the retreat, making space for near-peer relationships to form as well.
Design Tools & Tips
Take as much as possible off employers' plates. In order to make such a high-touch internship program accessible for as many employers as possible, FFE provides support at several points: the organization matches interns to employers based on fit and skillset, helps customize position descriptions, provides onboarding support for both interns and company mentors, and handles timesheet management and tracking student participation through the ImBlaze platform.
Stretch student supports past graduation. Students continue to face significant barriers beyond the internship program and high school graduation. While FFE already builds in opportunities to develop networking skills—empowering students and alumni to access and mobilize their networks on their own—it has also piloted a high school alumni-focused internship program.
Notable Results
230

The number of interns placed at 65 employer partners.

$300,000

Total stipend dollars awarded to students.