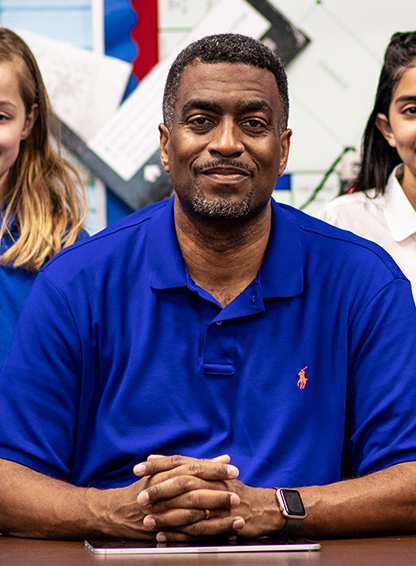 Photo Credit:
Allison Peeler,
5th grade,
Isenberg Elementary School
I felt like he was talking to me and my experience.
Anthony Johnson
Science teacher, Isenberg Elementary School
Salisbury, NC
I remember that day in the 9th grade when I was called into the office. I remember thinking "I haven't done anything yet!" But it was the guidance counselor who wanted to see me. I was failing, and I had been failing since the 4th grade. I didn't like the way school was structured: sitting for hours at a desk with nothing hands-on.
When I got into the office, my guidance counselor told me that I was wasting my time in school. I should just get a GED and go into a trade. So, I dropped out of school at 16 and got my GED.
When I was 27 years old, my parents died. I was in a dark place. I felt guilty that I could have done better, like in school, before my parents passed. But at 28, I decided I would become a teacher. I wanted to change lives.
One day, motivational speaker Dr. Calvin Mackie came to deliver a talk at the NASA Preservice for Teachers conference. I'll never forget what he said: "The average teacher in America is dead at 25." Because of all that's asked of them, life is just sucked out by the time they reach the age of 25. I began to think of my experience when I was in school and how no teacher had ever reached out to me, how no teacher had ever tried to engage me. When Dr. Mackie was talking, I felt like he was talking to me and my experience. I decided that I wanted to be a different teacher. I wanted to be alive for my students. Dr. Mackie helped me understand that the teacher sets the tone for the students: if I'm dead, my students are dead. If I'm alive and engaged, my students are alive and engaged. I can't let what happened to me happen to my students, because I know firsthand what life is like when you drop out.
Anthony Johnson is a 4th- and 5th-grade science teacher at Isenberg Elementary School in Salisbury, NC. He is North Carolina's Southwest Regional Teacher of the Year 2016-2017 and an Apple Distinguished Educator.