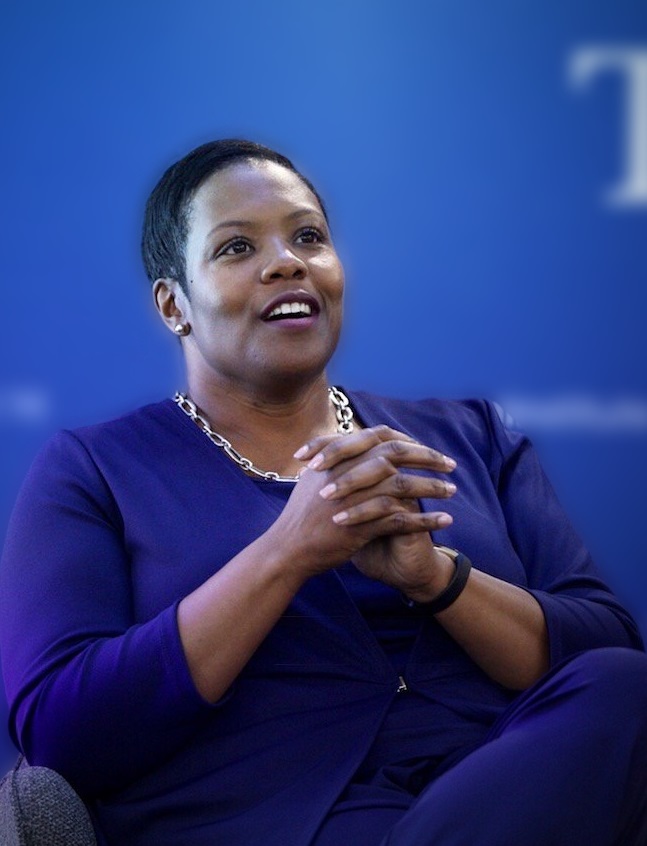 I remember coming home that day to my mother like, "I am in!"
Kaya Henderson
Founder and CEO, Reconstruction
New York, NY
I talked to 400 young people the other day from Urban Alliance and they asked me, "If there was one piece of advice you could give us, as high school seniors, what would it be?" And I said "Build your network. Start building relationships with people, because you never know who's going to be able to help you along the way."
When I was in high school in New York in the mid-1980s, I applied to a competitive national internship program, called INROADS—a program still around today that provides internships for minority students in the corporate sector. It's how a lot of young Black people enter corporate America. By design, you get an internship in your 10th- or 11th-grade year, and you usually work with that company through high school and college. The company puts you in a bunch of different rotational roles over time, and, in many cases, invests in you to eventually hire you for the long haul. INROADS really helps high-potential Black and Latino kids build deep, abiding relationships with companies.
I was accepted to the internship, went through some training, and placed within the marketing department at General Foods, working for the staff there. A man named Tom McCann was the head of the marketing department at the time, and he would occasionally take the interns out to lunch or expose them to different aspects of the company. I did well in my internship, and one day, I remember having a conversation with him about college. He asked me where I wanted to go, and I only really wanted to go to one university: Georgetown. I was very clear about that and about applying early. I said I was planning on attending and he asked, "Well, do you think you'll get in?" I said, "Of course I'm going to get in because I have the grades, I have the extracurriculars, I have the leadership skills, and now I have this internship experience to help me." He asked me other questions about why I wanted to go to Georgetown, and he realized that I had done my research and I was obsessed with it. Finally, he said, "I'm an alum." And my mouth just dropped to the floor. He told me that when I was ready to apply to let him know because he was going to write me a letter of recommendation. I remember coming home that day to my mother like, "I am in!"
However, with INROADS, you're supposed to commit through high school and college. But the next summer, I didn't go back to General Foods because I got a scholarship to study abroad in Spain. International relations is what I wanted to study at Georgetown and I had been studying Spanish for most of my life, so the opportunity to go abroad for free was huge. When I got to INROADS I told them I couldn't go to General Foods over the summer but I could do it next summer when I got back, but they told me that wasn't an option. I understood their decision but couldn't miss out on the opportunity. So, I went to study abroad, and every month or so I would drop a note to the marketing department folks at General Foods to let them know updates about what was happening in my life. They would always send a note back saying "thank you" and to keep letting them know. Two years later when it was time to apply to Georgetown, I dropped Tom McCann a note and he said, "I told you I would write you a letter of recommendation when you were ready, so why don't you send me some things so I can write this letter." Now, he didn't have to do that. I was just this random little Black girl intern who had worked for him for one summer; and who knows if that letter made a difference in my admissions…though you'd like to think that every little bit helps. There are times that it costs us so little to do things that mean a lot to people who are coming up along the way. If I listed just how many times a door was opened because of that Georgetown name over the course of my career, well, it's just bananas.
Kaya Henderson is the CEO of Reconstruction, a technology company delivering a K–12 supplemental curriculum that situates Black people, culture, and contributions in an authentic, identity-affirming way, so that students of all backgrounds benefit from a more complete understanding of our shared history and society. She is also the co-host of Pod Save the People, leads Kaya Henderson Consulting, and served as Chancellor of DC Public Schools from 2010-2016. Her board memberships include The Aspen Institute, Curriculum Associates, Robin Hood NYC, and Teach For America, and she is the co-founder of Education Leaders of Color (EdLoC).